Plumber Wallan
If you require a plumber in Wallan to fix your running toilet, any type of plumbing leakage or blocked drains, we have you covered.
Domestic & Commercial Plumbers in Wallan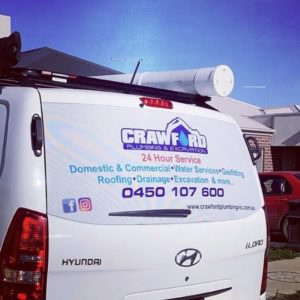 Are you facing a plumbing issue in your home? If so, then call Crawford Plumbing without wasting another minute. Plumbing issues are progressive. The longer you put off addressing a plumbing issue, the worse it becomes with time.
As a reputed company, we are always on call to deal with your plumbing problems – no matter how big or small. We'll be there at your doorstep right you when need us, regardless of the time of the day.
Why Choose Us For Plumbing Services In Wallan?
Being your local plumbers in Wallan, we'll take care of all your plumbing repair and installation requirements so that you can have your plumbing system working efficiently again.
We have the training as well as the technical know-how necessary to solve any plumbing issue effectively.
When you hire us, you can rest assured that all your plumbing issues will be fixed on time, every time.
WE ARE HIGHLY EXPERIENCED & Honest
For many years, we've been providing a wide range of plumbing services to homes and businesses in Beveridge and its suburbs. We have earned ourselves an unmatched reputation as an established plumbing company, with round-the-clock support and widespread coverage.  
We are committed to what we do and always give honest advice when it comes to choosing between repair and replacement.
24 Hours, 7 Days a week
We offer 24×7 emergency plumbing services throughout Craigieburn and surrounding areas.
When it comes to addressing plumbing issues, no one understands the problem better than us.
Our in-house plumbing experts will assess the problem and give you a price estimate upfront to avoid any surprises later.
We offer a wide range of plumbing services, from boiler repairs to fixing a leaking toilet and drain maintenance.
Give us a call anytime to get prompt plumbing services in Wallan
Professional Plumbing Services Wallan
With many years of experience in the plumbing industry and a dedicated team of professionals, we always deliver affordable and prompt service.
Our in-house plumbing experts in Wallan are known to offer a rapid response in the dire hour. Each plumber on our team is licensed with commendable skills and experience in plumbing repairs.
If you require a professional plumber in Wallan, give us a call today to book an appointment now.
Some of the significant benefits to hiring a professional plumber are:
Reduce your monthly water bills
Get relieved of any foul odor from your home
Offers a quick Plumbing solution
Enjoy a permanent solution in just a single visit
We work on public holidays
Since we understand the fact that a blocked drain emergency can arise at any point in time, we work on public holidays too. Get rid of the unpleasant experience of blocked drains.
Your #1 Plumbing Specialist
We, at Crawford Plumbing Vic, are equipped with 24×7 blocked drain plumbers who are always ready to serve you by unclogging all those drainage problems in your home or office
24 Hours, 7 Days a week Emergency plumbers
Our plumbers are efficient and fast in locating issues. They use cutting-edge technologies that guarantee fruitful results every time, regardless of the severity of the work.
24 Hr Emergency Plumbers Wallan
When it comes to 24-hour emergency plumbing services in Wallan, we are always available to take care of your last-minute plumbing needs. Whether you require plumbing assistance in the middle of the night or 5 in the morning, we'll be just a phone call away.
Our plumbing experts work round the clock throughout Wallan and its adjoining areas. Our knowledgeable professionals not only identify the root cause of your problem but also fix it in the most efficient and affordable way.
We have the right skills and equipment to handle both small and large scale plumbing problems and can also provide installation, repair and ongoing maintenance.
.  



SCHEDULE AN APPOINTMENT OR GET AN INSTANT QUOTE