Domestic & Commercial Plumbers in Pascoe Vale
When a plumbing emergency strikes, call Crawford Plumbing Vic for quick response any day, anytime.
We respond to every plumbing call-out request whether it's in the middle of the night or 5 AM in the morning.
We have the tools and expertise to service residential and commercial properties of all shapes and sizes. No plumbing job is too big or small for us, be it repair, installation or general maintenance. So, don't hesitate to call.
24 Hr Emergency Plumbers Pascoe Vale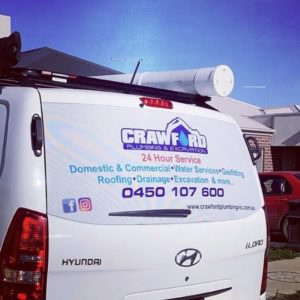 Welcome to Crawford Plumbing Vic, a  trusted and renowned choice for all kinds of plumbing services. Known for producing astounding results, our team of qualified plumbers is trained to rid away your plumbing troubles at affordable prices.
If you wake up to a major leakage in the bathroom, shut off the main valve, give us a call and sit back. Our plumber will arrive within 60 minutes of your call. That's a promise.
We provide round-the-clock plumbing services in Pascoe Vale and its surroundings. Call us at midnight or 6 in the morning; we'll show up with the tools and parts to fix the issue the first time.
We understand that a plumbing emergency can crop up any time, and you may not be expecting it to happen. But when it happens, our team of plumbers is always prepared to take over the situation. No matter where you are in Pascoe Vale, we are just a phone call away.
WE WORK 24 HOURS, 7 DAYS A WEEK
You can rely on Crawford Plumbing Vic for 24×7 assistance throughout Pascoe vale.
WE ARE FULLY INSURED
We are fully insured and registered, so you can be confident about who you are hiring for seemingly complex plumbing work.
BEST QUALITY WORK
Every plumbing job will be done to the highest standards, and we clean up after ourselves, so you don't have to deal with any of the mess.
WE ARE FULLY LICENCED - Commercial and Residential
We are licensed plumbers with formal training in commercial and residential plumbing repairs.
Give us a call for any kind of plumbing repair, installation or maintenance requirement in Pascoe Vale. We can provide same-day assistance, or you can schedule an appointment at your earliest convenience.
We have never turned down a request because it was too late at night or too early in the morning.
When you need us, we show up. That's a promise.
Call us now or leave a message to schedule an appointment with the best Coburg plumber.
We work on public holidays
Since we understand the fact that a blocked drain emergency can arise at any point in time, we work on public holidays too. Get rid of the unpleasant experience of blocked drains.
Your #1 Plumbing Specialist
We, at Crawford Plumbing Vic, are equipped with 24×7 blocked drain plumbers who are always ready to serve you by unclogging all those drainage problems in your home or office
24 Hours, 7 Days a week Emergency plumbers
Our plumbers are efficient and fast in locating issues. They use cutting-edge technologies that guarantee fruitful results every time, regardless of the severity of the work.
Professional Plumbing Services Coburg
Crawford Plumbing Vic has years of experience in plumbing repairs and installation works of any scale or complexity. We have the tools and resources to take up large commercial plumbing jobs, and we are small enough to fix a leaking faucet in a household.
You don't have to think twice before giving us a call.
We can handle just about anything and everything related to plumbing.
For emergency plumbing service, reach our 24×7 helpline 0450107600.



SCHEDULE AN APPOINTMENT OR GET AN INSTANT QUOTE