Domestic & Commercial Plumbers in Coburg
Facing a serious plumbing issue or need help with the installation of a new water heating system?  Your local plumber in Coburg is just a phone call away.
Crawford Plumbing Vic specialises in a wide range of commercial and domestic plumbing works, from fixing leakages to unblocking drains, to installing new plumbing fixtures and appliances — no job is too big, small or complex for us.
24 Hr Emergency Plumbers COBURG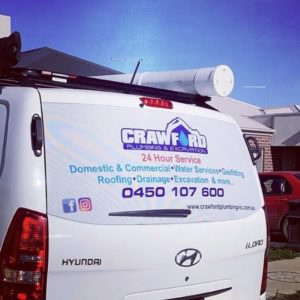 Welcome to Crawford Plumbing Vic, a  trusted and renowned choice for all kinds of plumbing services. Known for producing astounding results, our team of qualified plumbers is trained to rid away your plumbing troubles at affordable prices.
We are always on standby to assist our customers in distress due to a plumbing breakdown. We operate 24×7 throughout Coburg and its surroundings. Whether it's a broken shower head or clogged up kitchen sink or low hot water pressure, we are always ready with our tools to fix the problem at the earliest. If there's an emergency plumbing situation that can't wait, give us a call without a thought. We can even attend to last-minute plumbing call-outs.
WE WORK 24 HOURS, 7 DAYS A WEEK
Offering 24×7 plumbing assistance with a swift response.
WE ARE FULLY INSURED
Our public liability insurance has got us covered for any collateral damage to  your plumbing system or property.
BEST QUALITY WORK
We make sure every plumbing job is completed to the best standards, and there's no mess left behind. We are happy to clean up after ourselves.
WE ARE FULLY LICENCED
Our plumbers are licensed, fully trained and always show up in uniforms.
While 24 hour plumbing call-outs from across Coburg keep us on our heels, we have never turned down a request because it was too late at night or too early in the morning.
When you need us, we show up. That's a promise.
Call us now or leave a message to schedule an appointment with the best Coburg plumber.
We work on public holidays
Since we understand the fact that a blocked drain emergency can arise at any point in time, we work on public holidays too. Get rid of the unpleasant experience of blocked drains.
Your #1 Plumbing Specialist
We, at Crawford Plumbing Vic, are equipped with 24×7 blocked drain plumbers who are always ready to serve you by unclogging all those drainage problems in your home or office
24 Hours, 7 Days a week Emergency plumbers
Our plumbers are efficient and fast in locating issues. They use cutting-edge technologies that guarantee fruitful results every time, regardless of the severity of the work.
Professional Plumbing Services Coburg
We are a locally owned and operated plumbing service in Coburg, but unlike any other plumber in your neighbourhood, we always show up on time and give you a proper price breakdown to avoid any surprises for later.
We are fully trained in all aspects of plumbing repairs, installation and general maintenance. As a customer, you can leave all your plumbing worries to us and feel free to attend to other important things in the meantime. We stand behind our work and take pride in our industry-leading plumbing practices. In case you are not satisfied with our work, we'll put in our sincere efforts to make it right.
For emergency plumbing service, reach our 24×7 helpline 0450107600.



SCHEDULE AN APPOINTMENT OR GET AN INSTANT QUOTE